SURREY, ENGLAND. I love to visit wineries: the long, slow drive along a winding track to the front door; my boots on the gravel of a picturesque courtyard; the warm and honest greetings of the cellar door attendant who loves her job; the joy of new and novel wines fresh from the vineyard; the things I learn; the people that I meet.
The excitement is heightened when travelling overseas: the gratitude I feel; the sense of true adventure; the country roads I'm drawn along because a winery is waiting, somewhere in a valley or high upon a hill.
Like here, an hour south of London, where a dozen shades of countryside tumble from the narrow road and lie beneath the summer sun, among stone and wooden fences.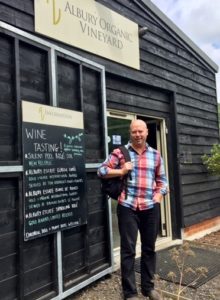 At Albury Estate – a small organic vineyard, established in 2008, on the southern slopes of the Northern Downs, near Guildford – I taste four wines: three sparkling wines and a still rosé.
The sparkling, Classic Cuvée – a blend of Pinot Noir (52%), Pinot Meunier (37%) and Chardonnay (11%) – is the standout wine. By which I mean the wine is complex and balanced, with depth and drive, and a memorable mix of savoury notes and sweet, red berry flavours.
The vineyard is small and compact – its annual output exceptionally modest – but the tasting room is welcoming and bright, with a space outside and a view to the vines.
I watch as a large bird of prey – possibly a rare, Red Kite – floats above the vineyard, riding the thermal currents beneath its outstretched wings.
Twenty minutes east, in Dorking, Denbies winery – established in 1986 – is England's largest single estate vineyard, featuring 265 acres of vines spread across a deep, broad valley on deposits of chalky limestone.
The winery is immense: its café is popular; the gift shop, too. Out in the vineyard, vines grow on sites and slopes of varying scale and height. There are microclimates within each site – and a suite of wines to mirror that diversity.
Denbies wine now competes at an international level, including multiple awards for sparkling wine production. I like the wines, though their levels of acidity can prove quite challenging.
Some of the vines at Denbies are German in origin – a nod, presumably, to the ability of German grapes to reach a fermentable sugar level in cooler climates.
Nonetheless, and even after chaptalisation – the process by which sugar is added to the grape juice (a process permitted in parts of Europe but outlawed in Australia) – several of the wines possess a potent acidic kick.
My tour guide at Denbies is a wise and generous man – a true enthusiast. He is confident that the best is yet to come for the modern English wine industry. I believe him.
Today, the English wine scene is thriving, thanks to warmer summers and substantial new capital and expertise.
Approximately 5,000 acres of land is under vine. More than 450 vineyards produce over 3.15 million bottles a year. And consumer demand (and wine literacy) is growing: sales of English wine reached almost £100 million in 2015.
That same year, Champagne Taittinger announced it is buying a vineyard in Kent and will produce an English sparkling wine.
Even the Queen has jumped on board, producing 3,000 bottles of sparkling wine from vines grown at her Windsor Park estate.
These are reasons to be cheerful.
My day in the south of England ends with a toast to English wine – and with a nod of admiration to those who labour long and hard to bring about its growth.
Featured image: Denbies Estate Winery, UK
Image insert: At Albury Estate Organic Winery, UK, 2017