In the movie Sideways (2004), two men in their forties, Miles and Jack, take a week-long tour through the vineyards and cellar doors of the Santa Ynez Valley, California.
Miles (Paul Giamatti) is a middle-school teacher and struggling writer, whose autobiographical novel has been turned down by countless publishers.
Jack (Thomas Haden Church) is a soon-to-be-married, B-grade actor, who counts among his career highlights a voiceover for an erectile dysfunction cure.
Miles is hoping for a week of wine tasting, golf and good restaurants. Jack, a gregarious philistine with a high sex drive, wants to get laid one last time before his impending marriage.
In the course of their trip, Miles and Jack meet and hang out with two women: Maya (Virginia Madsen), a local waitress with whom Miles develops a strained, romantic attachment; and Maya's friend Stephanie (Sandra Oh), a cellar door employee with whom Jack has an ill-fated fling.
Though Miles and Jack have known each other for years (they were college roommates), they are fundamentally different beasts, and many of the film's best moments arise from their opposing personalities.
It's a lovely film – funny, sad and tender – and one that garnered praise worldwide from critics and audiences alike.
My wife and I drove from San Francisco to Los Angeles in 2008, stopping along the way at cellar doors throughout California.
Our favourite region? The Santa Ynez Valley. There, we joined the long line of tourists seeking to recreate the Sideways experience.
We stayed at the Bulleton Days Inn (the hotel with the windmill), in a room like the one that Jack and Miles share. We parked our hire car in the driveway where Stephanie breaks Jack's nose.
We dined at The Hitching Post, Miles' favourite restaurant. We drank in the bars and wineries where Jack and Miles eat and drink.
We sat in the soft and golden light that falls upon the valley in the fading afternoon, and talked and laughed like they do in the film.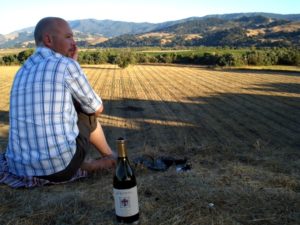 Yes, we chased a cliché – but we had such fun and drank great wine.
Thereafter, Sideways became for us a kind of photo album: our travel diary captured on film; real but not real; life imitating art.
I return to the film at least once-a-year (I own it on DVD). It is Miles that I have come to love – or, more precisely, the actor Paul Giamatti, who brings to his depiction of Miles such deep and convincing melancholy, fatalism, sensitivity and earnestness.
There are scenes in Sideways where Giamatti conveys the inner world of Miles with a look or a grunt or a slouch of the shoulders – and does so with such profound and convincing force as to evoke in me an immediate and corresponding sense of pain or joy.
The narrative arc of the film takes Miles from broken man to something approaching redemption. Along the way, Miles discovers what matters to him and claws together the inner resources necessary to give effect to his hard-won insights.
He doesn't, however, do it alone. Jack helps, in his own chaotic way. For all the trouble and angst that Jack causes, he does love Miles and their friendship matters.
And then there is Maya: gentle and strong; vulnerable and honest. She listens to Miles and believes in him. Because of her, Miles is drawn to a better place – one, we hope, in which he might be happy and at peace with himself.
When we travelled across America, my wife and I were not yet married. Living together and being married were still in the future and I was, to a large extent, uncertain and irresolute about absolutely everything.
Not everyone is lucky enough to find someone who believes in them and calls them forward. But I did. And Miles did.
The list of things that I love about Sideways is endless. Mostly, I admire the wit and wisdom of those who wrote the script, and the warmth and skill of those who brought it to life.
I watch Sideways and feel grateful.
Sideways is a 2004 American comedy-drama film written by Jim Taylor and Alexander Payne and directed by Payne. The film was adapted from Rex Pickett's novel of the same name. Watch Miles explain why he's 'so into Pinot'. Watch Maya explain why she loves wine.
Picture within article: Santa Ynez Valley, California, 2008; Photo by Shirley Bateman